STYLE WELL INTO YOUR 40'S!
March 25, 2022
Well, you've hit 40's-the middle age.40's is in fact the new 30's. At their 40's women are naturally surer about themselves. It's time to carry yourselves with elegance and grace. At this age some of us may feel confused, lost the way or even have a tendency to go invisible in the style department. There is absolutely no reason as to why you should launch an invisible mode on fashion sense upon hitting 40, but it is the time to revamp your style and dress in style, highlighting your personality. There are a few rules that may help you get back on track:
1) THE 80/20 RULE
80% of your clothing budget should be spent on the basics. Make sure you invest in high quality wardrobe essentials-like good quality undergarments, shoes, accessories even the fabric you choose to stitch that kurta must be of high-quality fabric. Do not fall into the trap of sales and bargains. Always get the basics right. Cheap quality clothes and ill-fitting undergarments are enough to pull down anything you wear on top of it. Have a set of go to sarees, kurta or salwar kameez stitched from good fabric. Invest in genuine silk sarees, kurtas, a nice handbag -these go a long way to define your style. The 20% goes to trends. Do not just blindly follow trends and choose trends that speak to you. Those that resonate your style and feel interesting. For e.g., Distressed jeans are a trend these days. Wear them only if you feel like it. Check whether it suits and flatters you. Trends come and go. So, it is not wise to spend a lot on trends.
2) THE RULE OF ONE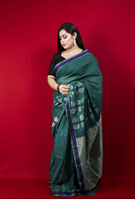 Pick one bold colour, one print, monochrome or blocks. Do one trend at a time. For e.g., adopt one trend, distressed jeans for e.g., and keep everything else neutral. Solid colours, monochrome and block prints look good and give that classy elegant look. Multiple. splashy colours do not look good at this age. A maximum of two colours are recommended for any attire. Tip: Pair a monochrome saree with a contrasting blouse. Embroidery should be kept minimal on sarees, salwar suites etc. You can choose one portion of your costume-like on the shoulder of your blouse, on the sleeves etc. An embroidered blouse with a plain saree will give a good look. Try to invest in ethnic pieces too as they will bring in class in your style.
3) DRESS FOR YOUR BODYSHAPE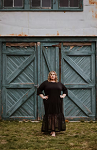 This is a mistake that most of us make. We may never budge from our size. I'm a size 32 -I won't buy anything greater than that". Well, actually a size up does make you look fit in that dress. Wear the right size without anything bulging up from here and there. Know your body shape-Pear, Triangle, Inverted triangle, Hourglass, Circle and dress accordingly. Never wear ill-fitting undergarments too. They make the whole look go haywire. Body hugging clothes do not look good at this age. Body hugging clothes gives out an asymmetric look, exposes those flabs lending discomfort to the viewer and the wearer alike. Pair your kurta with palazzo, patiala, or even cigarette pants. Invest in your clothing. If possible, buy the right kind of fabric and stitch your costumes with the help of a good tailor. You can ensure that your clothes fit properly by doing so.
4) TAKE CARE OF YOUR CLOTHES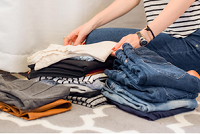 For our wardrobes to live long, take care of the clothes. Do not just throw all your clothes into the washing machine. Separate the whites. Dry-clean the pieces that are meant to be dry-cleaned. Silk sarees for an instance-there are even tutorials on how to take care of them. Dry-clean them and keep them wrapped in a cotton cloth or a saree bag with the embroidery folded inwards. Dry them in the shade and unfold them to change the folding seams every month. Keep silk outfits hanging in the cupboard, if possible, rather than folding it. It is also good to air them every 3 to 4 months
5) KEEP A GO TO STYLE READY
Well, you may be running late for work or might be having a bad day, whatever it is, always have some go-to styles classic pieces of costumes ready. A well-tailored kurta and a pair of pants, the classic saree or a stylish scarf can mark your go- to- style and save the day.
6) ACCESSORIZE WELL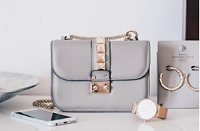 Style yourselves with accessories like belts, purse, jewellery and a watch. The shoes should fit perfectly. Always buy a good pair of well- fitting, comfortable shoes that you can walk in and lend arch support to your feet. This may help to avoid many foot problems. Whatever you accessorise with-always make it a style statement. Do not go for more -be minimal and classy. Invest in quality when you buy accessories.
7) FOLLOW YOUR HEART!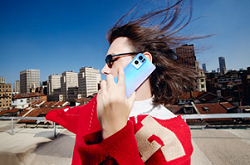 Fashion is fun. If you feel like trying out that mini skirt, well do it. You've got great legs, is in good shape-why not? Age should not be the primal factor in deciding your fashion. You can wear anything you want as long as you feel amazing, confident and comfortable in it. If it highlights your assets and brings out the best in you and makes you happy -go for it! Always remember-You are Unique! Love yourselves and style yourselves in such a way that inspires you and brings out the spring in you!